EASY TO OPEN
Simply apply on your smartphone through the SPENN app.
3% INTEREST PER ANNUM
Earn 3% annual interest on your savings every month, with no transaction fee or minimum balance required.
PRIZE DRAWS
The Saver+ account offers monthly and quarterly prizes to reward you for saving.
HERE TO HELP
We will provide all necessary information. Contact us 7 days a week if you need any assistance.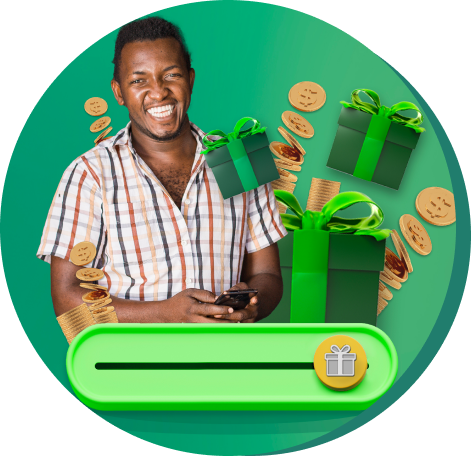 SAVE TO WIN
THE NEW SAVINGS ACCOUNT THAT GIVES BACK
Stand a chance to be one of our 10 lucky winners who will win a share of the K11,000 jackpot!
Rules:
Saver+ users must keep the average balance for their draw category of choice. The balance must remain on their Saver+ account for 30 days until the end of the draw season.

Only individuals who have accepted the Saver+ terms and conditions will be entered into the draw.

A higher savings balance increases a user's chances of participating and winning in the draws. User cannot claim the prize in more than one category per time.

The draw will be held on the first working day of the month, and users will be selected at random.

Winners will be withdrawn for 6 months from participating in the prize category where they won.

Selected winners must claim their prizes within 7 days, or they will be withdrawn.
For more information on see full T&Cs here.
HOW TO ENTER THE PRIZE DRAWS
Download the SPENN App
and follow the steps to validate your account

Open a SAVER+ account
Create your free account then enter your goals to start saving (Terms and conditions apply)

Start saving and earn 3% interest
The interest amount for the month is credited to the SPENN account

Be in it to win it
Check your balance to make sure you qualify for the draws

Stand a chance to win while you save
Save to increase your chances of winning prizes (monthly and quarterly prize draw)
SPENN Saver+ is a free interest-bearing account that pays 3% annually to SPENN customers with a savings balance. The 3% interest is paid on the first working day of the following month.
In addition to the 3% interest rate on your savings account, cash prizes are distributed monthly and quarterly to lucky winners. See Saver+ T&C for more information.
SPENN customers with a Saver+ account will get 3% interest yearly on their total savings balance.
Sign up for an account or log into the SPENN app. Deposit money to your spending account, and transfer from this fund to your savings account. In a month, avoid making more than two withdrawals from your account so that you remain eligible for an interest.
Interest is paid every month. The interest amount for the month is credited to your SPENN Account on the first working day of the following month.
To enter into the prize draws, keep the average balance for your desired draw category on your Saver+ account for 30 days, until the end of the month or the end of the quarter. The average balance for the monthly draw category is K500, while the quarterly draw category balance is K2000. Winners are selected on the first working day of the month after the draw seasons have ended.
If you are among our lucky winners, you will receive a message informing you of the prize won. Then our customer service team will contact you within the first five business days of the following month to enable you to claim your cash prize.
Our customer service team will give you a call after the draws; however, you may contact our team for any assistance on +260 975 944 968.
The monthly draws take place at the end of every month.
Quarterly draws are at the end of every three months.
Login to SPENN and open the Saver+ Account. On the Saver+ screen, check your total savings balance to see if your balance matches with the average balance required for your desired category.
Stay alert, don't be a victim of cybercrime
We help keep your money safe with our Data Loss Prevention system but we need your help to avoid cyber attack.
SPENN will never ask for your password or personal details in order to receive rewards. If you receive emails or text messages from random numbers, do not share any information with them. Cyber criminals are smart but you can be smarter.
For updates, questions or queries contact our (customer care lines and emails), and follow @SpennZambia on social media.
ADDITIONAL COST-FREE SERVICES